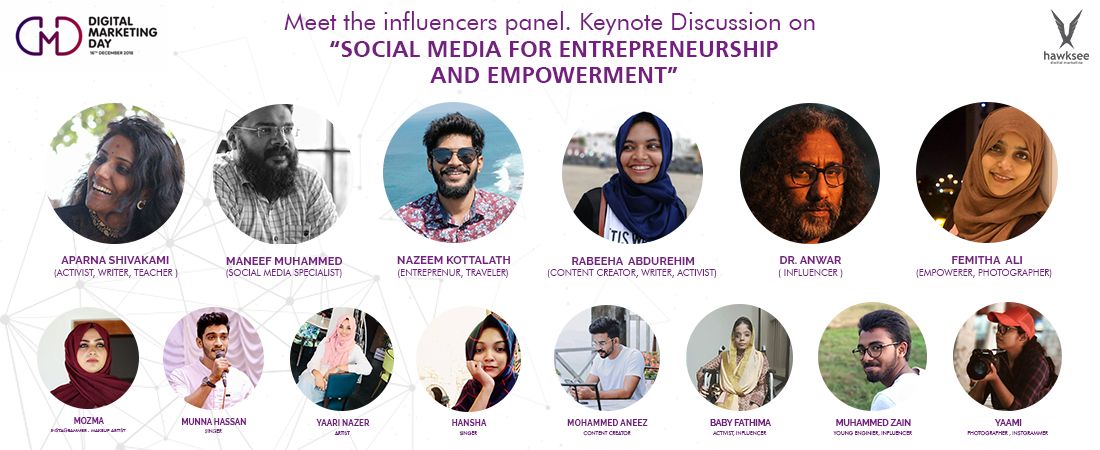 What do you think of an idea to celebrate 'Digital Marketers' on 'Digital Marketing Day'?
Let's gather up in our own Calicut to discuss with some wonderful personalities and hear their stories about how they use Social media for their entrepreneurship and empowerment  and also get to know how to use social media wisely from the experts in the industry.
It's happening across many cities in India, In Calicut Hawksee Digital Solutions Pvt.Ltd hosting the meet up.
Let's meet and greet people!
To celebrate the spirit of digital marketers and influencers, an idea of digital marketing day celebration was proposed by digital marketing guru Sorav Jain and subsequently, the community decided to roll out the first-ever digital marketing day celebration and meetup on December 16, 2018 at different locations in the Country. Hawksee is honoured to host this in Calicut.
Humans who're inspiring, empowering and influencing humans through the immense possibilities of digital world  will be talking through their experiences and expectations. This informal meetup is nothing but a celebration of connectivity.  Any one from anywhere can attend this, but there are only limited seats  available.
So book your seats asap, well our event is happening  from 2pm to 6pm at Woodies Bleisure Hotel palayam,Calicut
Be there on 16th December,2PM
Venue: Hotel Woodies Bleisure,Palayam,Calicut
Google map location: http://bit.ly/DMD_Calicut_Venue
Time:  2 PM to 6 PM
1. Introduction about Digital Marketing Day
2. Expected Performers:
Tasvy Muhammed

– Model,Fashion Stylist and Influencer

Aparna Shivakami

-Activist,Writer,Teacher

Baby Fathima – Activist
Dr Anwer – Infuencer
Rabeeha – YouTuber, Writer, Blogger, Activist
Nazeem – Entrepreneur ,Traveller
Femida Ali

– Empowerer, Activist and Photographer

Maneef– Entrepreneur,Social Media Specialist
Yaami – Photographer, Instagrammer
Aneez – Content Creator
Hansha – Singer
Munna Hassan –

 

Singer
3. Open Mic for Q&A
4. Networking session
5. Break time- Tea Coffee & Snacks
6. Musical concert by Munna,Anand and Hansha
7. Votes of Thanks